Monsoon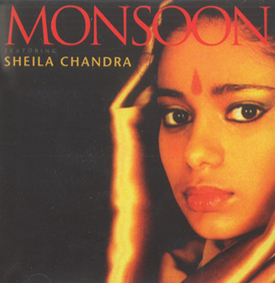 1982 (Universal)
MONSOON Featuring SHEILA CHANDRA
This album (1982) contains Monsoon's iconic, groundbreaking single "Ever So Lonely".
London born, second generation Sheila Chandra became the first Asian to sing on BBC TV's Top of the Pops. (she wore a sari) Incredibly, Sheila was the only Asian to have mainstream chart success in the 1980's.
The Indipop/ Asian fusion style of Monsoon wasn't just sitars alongside guitars, and tablas alongside western drums, it was in the rag-based melodies and drones. Other tracks on the album featured folk and 'World Music' instruments such as bagpipes, hurdy gurdy, gamelan, shehnai, mandolins, morcing, Chinese gongs and santoor.