Pure Drones Volume 1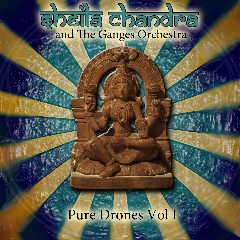 2013 (Indipop)
PURE DRONES VOLUME 1
Sheila Chandra and the Ganges Orchestra
4th February 2013 finally sees the release of many of the distinctive backing drones that Sheila Chandra used on her pioneering solo voice and drone albums for Real World Records. The "Pure Drones" trilogy consists of 21 pure seven minute drones - seven on each album.
These gorgeous richly harmonic tracks, available initially as downloads only, are perfect for relaxation (yoga, meditation etc) and of course as inspiration for vocalists. Deeply relaxing, enchanting, immersive soundscapes, "Pure Drones" are magical things. Listen attentively and you'll hear all sorts of harmonics and strands of melodies within them.
During Sheila Chandra's sabbatical which ended in 1989 with 'Roots and Wings' (Sheila's 5th solo album for Indipop Records after leaving Monsoon), Steve Coe had begun to formulate many of these single or multi- layered "Pure Drones" as background music for his relaxation time. Sheila found their mood and harmonics irresistible to sing over, and they became the basis of inspiration for many of her most well-loved tracks. Subsequently she developed further their musical and creative possibilities on her 4 albums for Peter Gabriel's Real World label during the 1990's.
Each 'Pure Drone' is created from acoustic sources e.g. various tambouras, harmonium, santoor, piano, constant held voices, surmandel, etc. At root, drones have been part of the World's cultural and spiritual heritage for over 3,000 years - their uses, associations, and connotations, are both ancient and profound.
None of the three "Pure Drones" albums contain any melodic lead vocals by Sheila Chandra (or indeed any instrumental melodies from Steve Coe's Ganges Orchestra). Fully exposed now for the first time on these 3 albums all 21 tracks are literally 'purely' drones, and their harmonic, resonant, inspiring beauty shines out.
The "Pure Drones" albums can be used as backing tracks to improvise over, write and create new songs. As Sheila says, "Drones empower singers, providing both support and counterpoint to their vocals."
Allow yourself to float downstream and soak up these sensual spiritual sounds. Complex and inspirational, they'll carry you along. Immerse yourself and enter the world of "Pure Drones".
Visit the Sheila Chandra and the Ganges Orchestra Facebook page.